But Jesus said, "Let the little children come to me and do not hinder them, for to such belongs the kingdom of heaven." - Matthew 19:14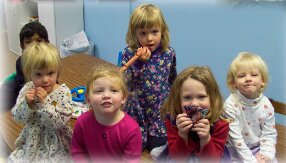 We believe that children and youth are a gift from the Lord (Psalm 127:3), and a sign of His grace to us all. They are created to be worshippers. They can either find joy in worshipping the true and living God who revealed Himself in Christ or waste their lives worshipping things or people – or themselves! Our goal in ministering to children and youth is to bring glory to Christ by raising up those who worship Him in spirit and in truth (Jn. 4:24).
Ultimately we want our children and youth to develop habits which will keep them coming to the fountain of God's grace all their days. We want them to be convinced that God gave them the Church to nourish their souls with His Word, to love and encourage them through other Christians and to bring them into His awesome presence in worship.
During Sunday services we encourage parents to sign in their children who are newborn to Kindergarten in our Children's Ministry area.